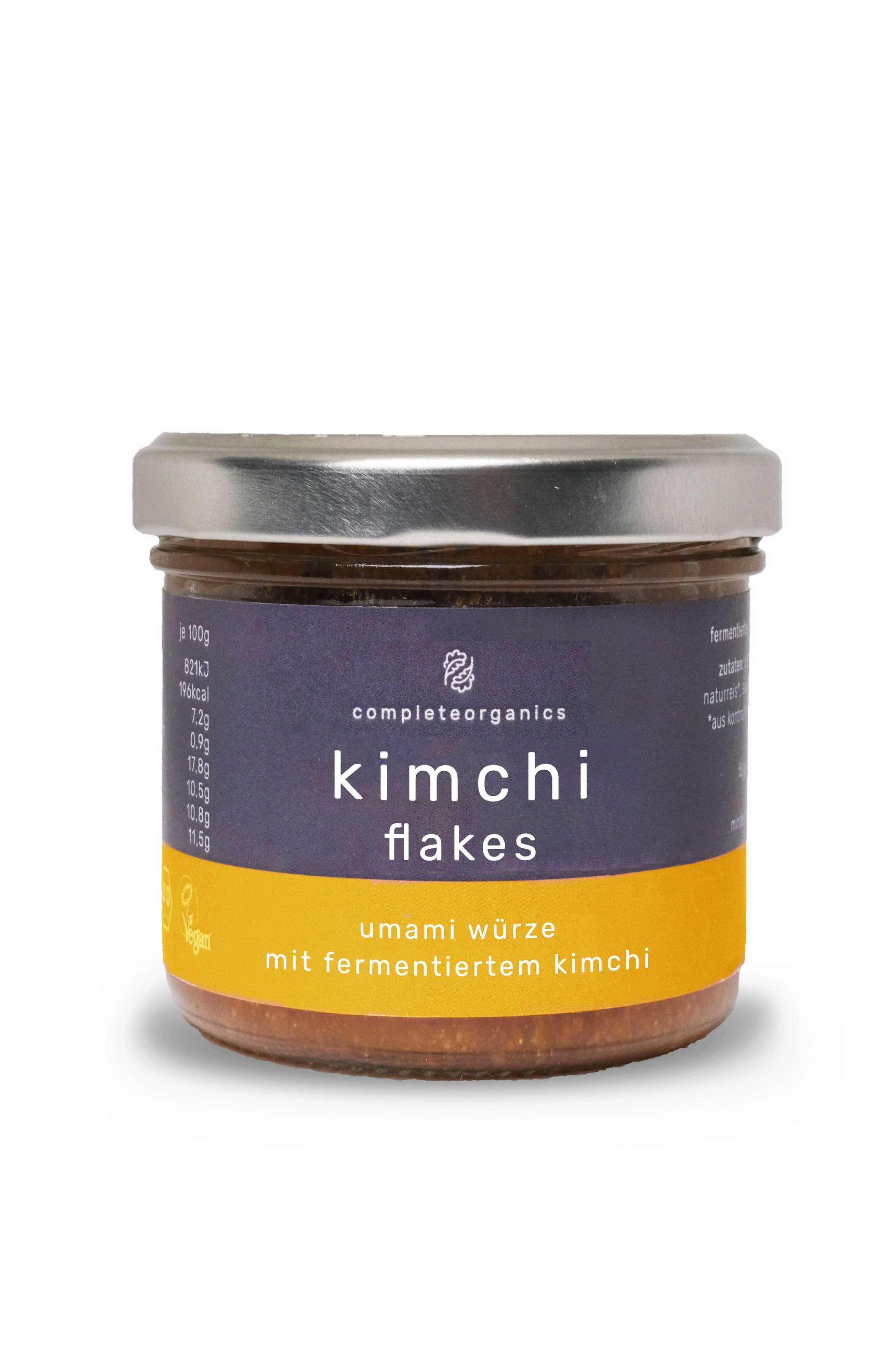 Kimchi Flakes

Umami seasoning from dried kimchi
✔︎ Kimchi now also for sprinkling
✔︎ Fits over rice, hummus and virtually everything
Umami seasoning from fermented kimchi.
Kimchi now also for sprinkling.

Our daikon kimchi dehydrates in flakes - a must for all kimchi lovers. Goes great over rice, hummus and basically anything. By the way, our kimchi flakes are still full of active cultures.
- Calorific value: 896 kJ/ 206 kcal
- Fat: 0.9 g
- Of which saturated fatty acids: 0.9 g
- Carbohydrates: 30.8 g
- Of which sugar: 0.9 g
- Protein: 7,5 g
- Salt: 48.42 g
Kimchi powder* (75%) (radish*, carrot*, paprika*, sea salt, ginger*, chili*), sea salt

*from controlled organic cultivation
Tolles Gewürz
Ich habe die Flakes neu entdeckt! Mittlerweile streue ich sie auf alles, was eine dezente Würze verträgt. Kann ich nur empfehlen!
Kimchi flakes sind großartig, wir nutzen sie fast täglich, um Gerichte aufzuhübschen.
I like it!
Der Geschmack ist wirklich gut und die Flakes geben einen extra "Kimchi" Kick auf Salaten, Dips aber auch warmen Speisen. Super leicht zu verwenden und zu dosieren.
Immer wieder ein Gaumengenuss
Die Qualität und der Geschmack ist wirklich hervorragend.
TIPPTOPPE QUALITÄT
ALLES WUNDERBAR, AUCH DER VERSAND IN DIE 🇨🇭 KLAPPT HERVORRAGEND.