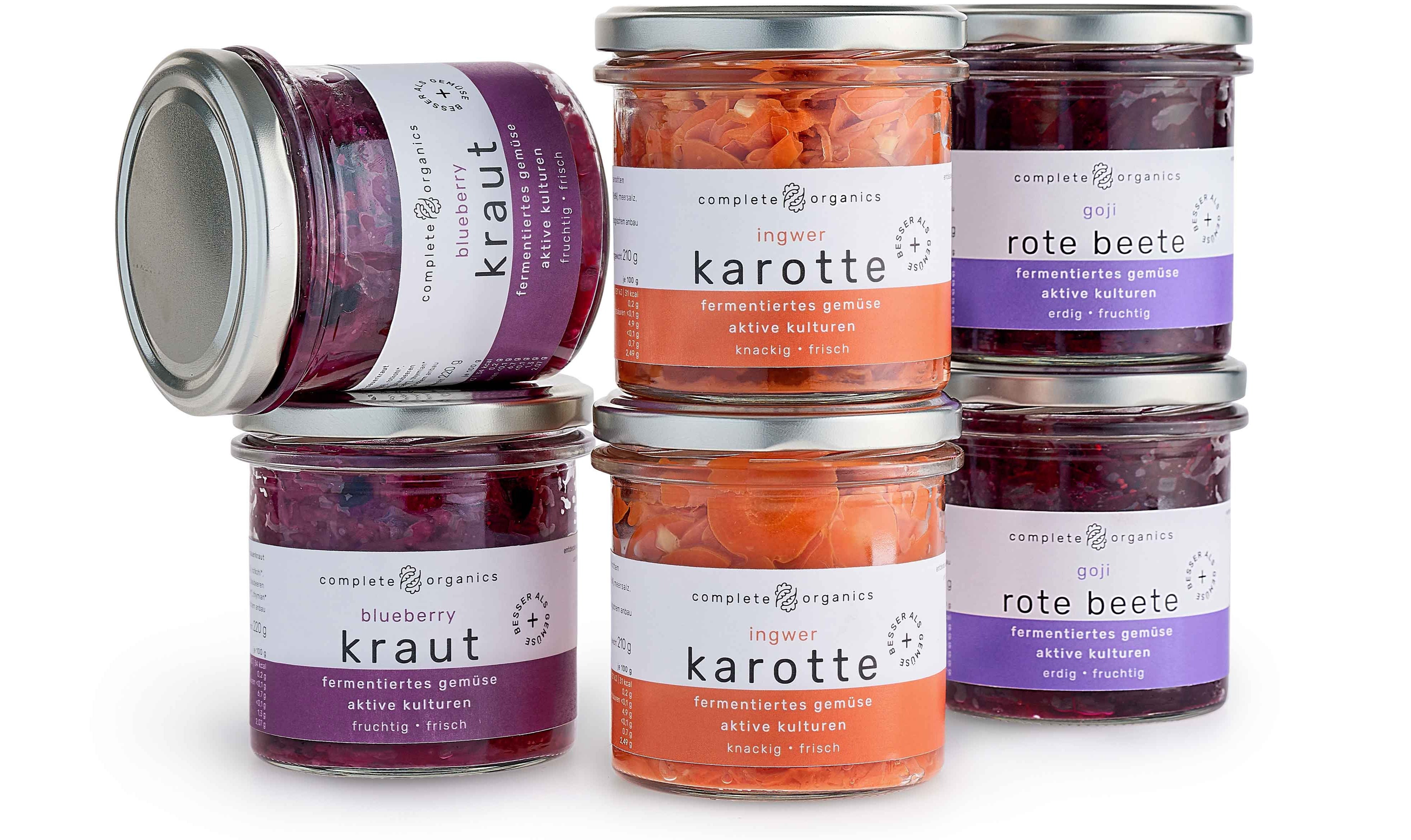 mild six pack

Our mild ferments
✔︎ without additives and sugar
✔︎ without spiciness and garlic
Our mild ferments in a set at a bargain price.

2 × ginger carrot
2 × blueberry herb
2 × goji beet

100% organic vegetables, completely without additives and not pasteurized.
‍
Without spice and garlic - but full of superfoods with goji berries, ginger and blueberries. There is even something for children :)
goji beet: beetroot* (93%), horseradish*, natural sea salt, goji berries* (dried)

ginger carrots: carrots* (96%), natural sea salt, ginger* (fresh).

blueberry herb: white cabbage* (75%), red cabbage*, sea salt, blueberries* (blueberries dried*, apple syrup*), thyme*.


*from controlled organic cultivation
Bin sehr zufrieden, das Einzige was ich nicht gerne mag, ist: der Blumenkohl fühlt sich an wie weich gedünstet.
Ursprüngliche Geschmäcker
Rote Beete: schmeckt mir sehr gut, es kommt der eigentliche erdige Geschmack der Roten Beete durch, welches nicht jedermans Sache ist. Da wird einem erst bewusst wie viel Zucker in herkömmlichen Rote Beete Gläsern steckt!
Karotte: mir persönlich fast etwas zu säuerlich und man muss Ingwer sehr mögen, da dieser doch sehr dominant ist.
Blueberrykraut: Hat eine für mich milde Säure und passt gut zu Fleischgerichten.
Auf alle neuen Geschmäcker muss man sich erstmal einlassen und die Geschmackserinnerungen aus seinem Kopf verbannen. Mir ist wirklich erst da bewusst geworden wie viel Zucker in anderen Produkten verwendet wird und wie uns dieser Geschmack geprägt hat.
wunderbar
danke für dieses tolle Produkt!
Habe noch nichts erhalten
Bestellung vom 2 September